Last night I was up until 4 with itchy leg-syndrome. It's sort of like restless leg syndrome but itchier. So I decided around 3:45 that I would not be attending church because that is not enough sleep. However, my good ole internal alarm clock woke me up at precisely the time I usually wake up for church. So I said, "ok, God. I suppose something spectacular is going to happen at church today that you do not want me to miss" However, I didn't notice anything at all. I just yawned a lot.
However, after church my animals were in excellen form for picture taking and I needed some recent pictures to put on my boring myspace. Also I had the pleasure of watching dad "thaw" some leftover ham.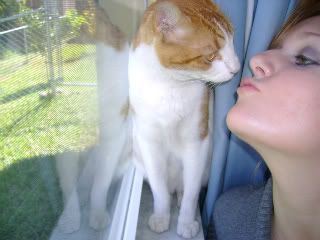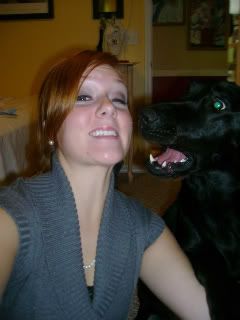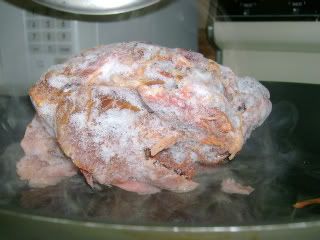 ahh, delicious. In more exciting sunday events, I watched 4 movies between 1 and 3pm before my nap. (at the same time!!) LiarLiar, Dinosaur, What Women Want, Inspector Gadget. Then after my nap I went and saw Role Models in theaters. Pretty funny.
Other random moments:
~I shared on of those KFC giant box meals with a friend...and I won a free biscuit on my cup peal-off sticker...so I had to get it right? Never Again, KFC. Never.
~Yesterday it was a high if 85 degrees, today's high, 60. Crazy freakin weather.
~Today I saw the object of my interest wearing jeans with flipflops. I was offended.
~Today I refused to share my candy bar with Jake and then didn't even finish eating it and ended up throwing it away. haha.
~Today I was so excited about the cold weather that I had a wardrobe change half way throught the day so that I could be seen in my new winter coat and my old GAP one that makes me look oh so sophisticated.
~Today dad told me I looked "sharp". I think that means sophisticated. I think it was due to the coats. (2)